Discover the hidden gem of Oak Mountain Winery, nestled in the picturesque Temecula Valley. Located on the De Portola Wine Trail, this winery offers a unique experience with its underground wine cave, the only one of its kind in Southern California. Take a tour through the 10,000 square foot cave and indulge in the aromas of aging wine and oak barrels. Afterwards, sample the handcrafted wines in the tasting room, or relax in the enclosed and climate controlled outdoor pavilion. With its stunning views and modern amenities, Oak Mountain Winery is the perfect venue for weddings, birthday celebrations, and corporate gatherings. Don't miss the opportunity to dine in the Cave Café and savor the flavors of their exquisite wines. Come and experience the charm and beauty of Oak Mountain Winery in Temecula Valley.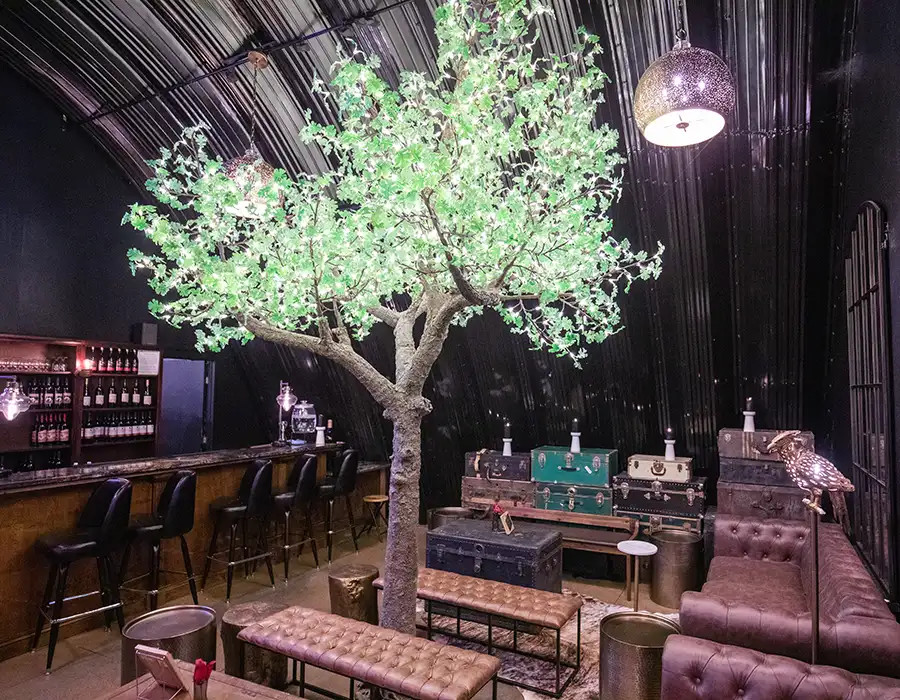 Oak Mountain Winery Overview
Welcome to Oak Mountain Winery, your oasis in the northeastern Appellation of Temecula Valley Wine Country. Located on the De Portola Wine Trail, Oak Mountain Winery offers a unique and picturesque setting with scenic views of Oak Mountain. As the only winery with a mined wine cave in Southern California, we pride ourselves on providing a one-of-a-kind experience for wine enthusiasts.
Location and Setting
Situated in Temecula Valley Wine Country, Oak Mountain Winery is nestled in the northeastern appellation, known for its stunning landscapes and thriving vineyards. The winery is conveniently located on the De Portola Wine Trail, allowing visitors to explore a variety of wineries in the area and enjoy the natural beauty of the region. With its scenic views of Oak Mountain, Oak Mountain Winery offers visitors a serene and tranquil setting to enjoy their wine tasting experience.
Unique Features
Oak Mountain Winery boasts a range of unique features that set it apart from other wineries in the region. One of its standout features is the presence of a mined wine cave, making it the only winery in Southern California with this distinctive offering. The 10,000 square foot wine cave provides an unparalleled ambiance for wine tastings and events, allowing visitors to immerse themselves in the aromas of aging wine and oak barrels.
In addition to the wine cave, Oak Mountain Winery also offers a full boutique inside its air-conditioned tasting room. This boutique showcases a selection of handcrafted wines, allowing visitors to choose from a variety of varietals, including Cabernet Franc, Cabernet Sauvignon, Grenache, Malbec, Merlot, Sangiovese, Syrah, Viognier, Zinfandel, and Sparkling wines. Whether you prefer to enjoy your wine by the glass or the bottle, Oak Mountain Winery has something to satisfy every palate.
Wine Offerings
At Oak Mountain Winery, we take pride in handcrafting our wines to reflect the unique characteristics of the Temecula Valley appellation. Our winemaker, Steve Andrews, brings his expertise and passion to each bottle, ensuring that every sip is a memorable experience. With a focus on quality and craftsmanship, our wines embody the terroir of the region and showcase the best of what Temecula Valley has to offer.
Our extensive wine offerings include a variety of varietals to suit every taste. From bold and robust reds like Cabernet Franc and Syrah to crisp and refreshing whites like Viognier, our selection caters to a diverse range of palates. Whether you're a fan of classic reds or prefer to indulge in sparkling wines, Oak Mountain Winery has an extensive range to satisfy even the most discerning wine connoisseurs.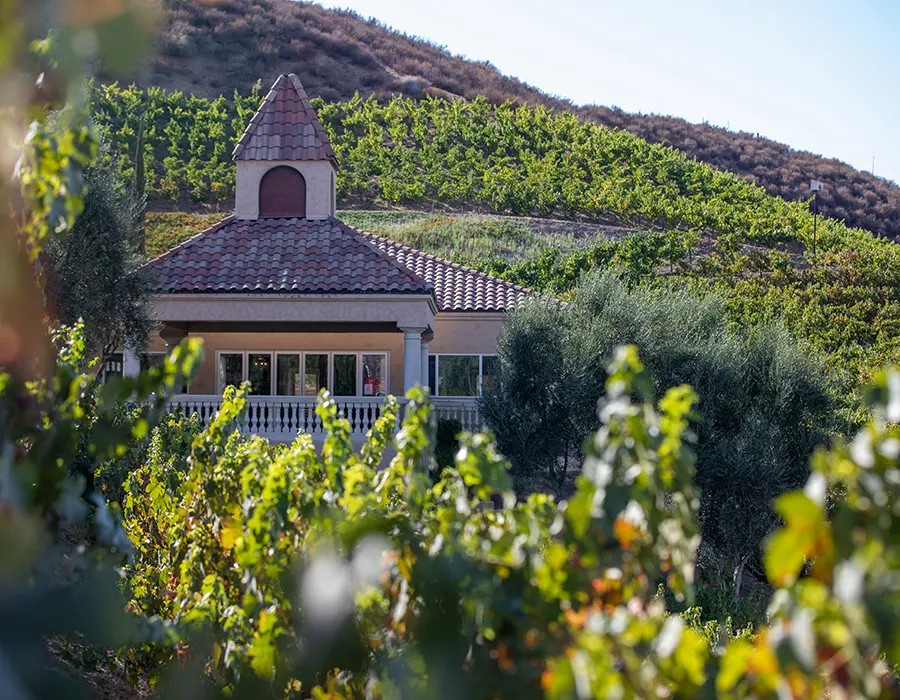 Tasting Room Options
When visiting Oak Mountain Winery, you have the option to choose from different tasting room experiences depending on the day of your visit. From Monday to Friday, our cave tasting room is open to the public, providing a unique and immersive experience inside the wine cave. Surrounded by the aging wine and oak barrels, this intimate setting allows you to fully appreciate the flavors and aromas of our handcrafted wines.
On weekends, our main tasting room and pavilion are available for wine tastings. The main tasting room offers a relaxed and inviting atmosphere, where you can sample a variety of wines at your own pace. The enclosed and climate-controlled outdoor pavilion is also available for private parties and events, allowing you to enjoy the beauty of the surroundings while sipping on your favorite wines.
Please note that weekends are reserved for club members, offering them exclusive access to our tasting room and pavilion. If you're interested in becoming a club member and enjoying these exclusive benefits, our friendly staff members will be happy to provide you with more information.
Tour Experiences
For those looking to delve deeper into the winemaking process and learn more about our vineyards, Oak Mountain Winery offers a comprehensive wine cave tour. Led by knowledgeable guides, this 10,000 square foot tour takes you underground to explore the fascinating world of winemaking. From the vineyards above to the cellar below, you'll gain a deeper understanding of the intricacies involved in producing our award-winning wines.
As part of the tour experience, you also have the opportunity to enjoy a dining experience in the wine cave. Imagine savoring a delicious meal surrounded by the aromas of aging wine and oak barrels, creating a truly unique and immersive dining experience. Whether you're celebrating a special occasion or simply looking to indulge in a memorable evening, the wine cave dining experience at Oak Mountain Winery is sure to leave a lasting impression.
In addition to the wine cave tour and dining experience, Oak Mountain Winery's VIP Reserve Room offers the perfect setting for special events. Whether you're planning a wedding, birthday celebration, rehearsal dinner, or corporate gathering, this elegant and versatile space can be tailored to meet your specific needs. With modern amenities for slide presentations and live musical performances, you can create a truly unforgettable event at Oak Mountain Winery.

Event Spaces
Oak Mountain Winery provides several event spaces that cater to different types of gatherings and celebrations. The VIP Reserve Room, with its sophisticated ambiance and modern amenities, is ideal for weddings, birthday celebrations, rehearsal dinners, and corporate gatherings. The flexible layout of this space allows you to customize the setup according to your event format, ensuring a seamless and memorable experience for you and your guests.
From intimate gatherings to larger parties, Oak Mountain Winery offers a range of event spaces that can accommodate various group sizes. Whether you're planning a small get-together or a grand celebration, our dedicated team will work closely with you to ensure that every detail is taken care of. With its picturesque setting and exceptional service, Oak Mountain Winery is the perfect venue for creating lifelong memories.
Cave Café
When it comes to dining, Oak Mountain Winery has you covered with its Cave Café. Open daily from 11:00 am to 5:00 pm, the café offers a range of menu options to satisfy your cravings. From light bites to hearty meals, you can indulge in delicious food while enjoying the pleasant dining atmosphere. Whether you're looking for a quick bite during your wine tasting experience or a leisurely lunch with friends, the Cave Café has something for everyone.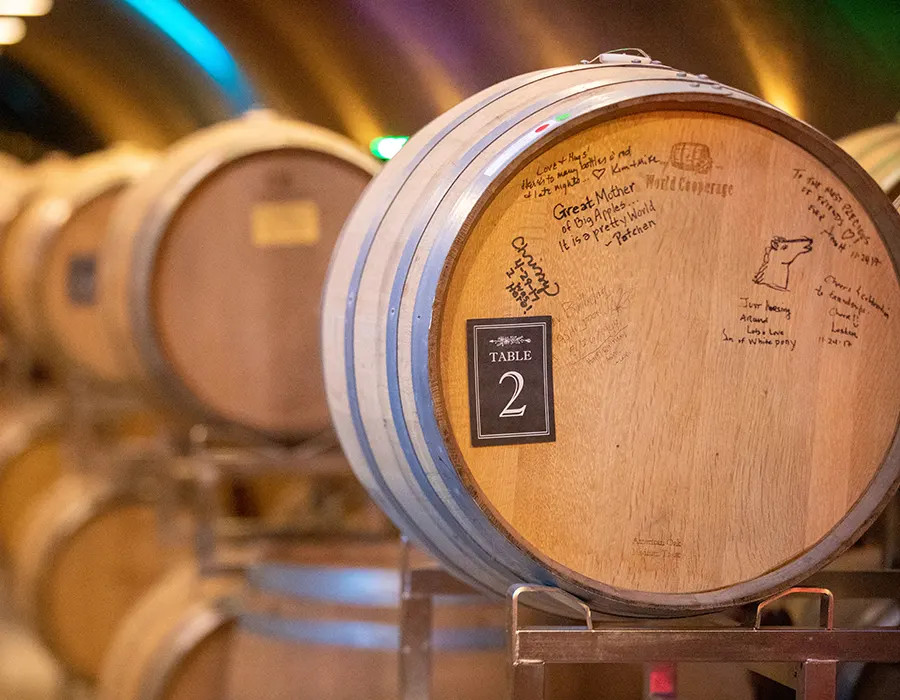 Lodging and Amenities
For those looking to extend their stay and fully immerse themselves in the beauty of Temecula Valley Wine Country, Oak Mountain Winery offers lodging and amenities. In addition to our exceptional wines and dining options, we provide additional facilities and services to enhance your visit. Whether you're traveling with a furry friend or looking to enjoy live music and explore our gift shop, Oak Mountain Winery has something to ensure a memorable and enjoyable stay.
Contact Information
If you're ready to experience the unique offerings of Oak Mountain Winery or have any inquiries, here is our contact information:
Address: 36522 Via Verde, Temecula, CA 92592
Phone: 951.699.9102
Owned By: Johnny Leon
Winery Established: 2005
Winemaker: Steve Andrews
Current Production: 9,000 cases annually
Limo/Bus Policy: We allow TVWA Responsible Partner Program Transportation companies arrivals between 10 am and Noon on Saturdays and Sundays. Arrival must be pre-arranged, with arrival time and transportation name on our arrivals list for the day. Any transportation company attempting drop-offs after noon will be refused. By advance reservation only. Please email tours@oakmountainwinery.com
Hours of Operation: Open daily from 11 am to 5 pm.
We invite you to come and experience all that Oak Mountain Winery has to offer. Whether you're a wine enthusiast, planning a special event, or simply looking for a relaxing getaway, our friendly staff and beautiful surroundings await you. Cheers to unforgettable wine experiences at Oak Mountain Winery!