Discover Falkner Winery, a hidden gem nestled high on a hill with breathtaking views of the entire Temecula Valley. Founded in 2000 by Ray and Loretta Falkner, this award-winning winery produces premium wines with outstanding varietal character. From Chardonnay to Cabernet Sauvignon, Riesling to Merlot, Falkner Winery offers a wide selection of handcrafted wines that are sure to please any palate. But it's not just the wines that make Falkner Winery special. They also pride themselves on their unique art and gifts, making it the perfect place to find a special souvenir or gift for a loved one. With a tasting room open daily and a restaurant serving delicious meals from 11:30 am to 3:30 pm, Falkner Winery is the perfect destination for wine enthusiasts and foodies alike. So come and experience the magic of Falkner Winery, where award-winning wines and spectacular views await.
About Falkner Winery
Falkner Winery is a renowned winery located in the heart of Temecula Valley Wine Country. Founded in 2000 by Ray and Loretta Falkner, the winery offers a stunning hill-top setting with breathtaking views of the entire Temecula Valley. It has gained recognition for its award-winning handcrafted wines and commitment to producing premium wines with outstanding varietal character.
Location and founders
Situated at 40620 Calle Contento Road, Falkner Winery is conveniently located just a quarter of a mile north of Rancho California Road. This prime location allows visitors to easily access the winery and enjoy all that Temecula Valley Wine Country has to offer. Ray and Loretta Falkner, the founders of the winery, established it with a vision of creating a unique wine destination that offers exceptional wines and unparalleled hospitality.
Award-winning wines
Falkner Winery has consistently received accolades for its exceptional wines. The winery takes great pride in its diverse offerings, including Chardonnay, Cabernet Sauvignon, Riesling, Sauvignon Blanc, Syrah, Merlot, Meritage, and proprietary wines such as the renowned "Amante," a robust red Tuscan wine. These wines showcase the dedication and expertise of the winemaking team at Falkner, resulting in wines that are rich in flavor and true to their varietal characteristics.
Tasting room and restaurant
One of the highlights of Falkner Winery is its inviting tasting room, where visitors can sample a wide range of their award-winning wines. The tasting room offers a cozy and welcoming atmosphere, allowing guests to relax and enjoy the experience of tasting some of the finest wines in the region. Additionally, Falkner Winery is home to the Pinnacle Restaurant, which provides a delightful culinary experience. The restaurant serves lunch seven days a week from 11:30am to 3:30pm, offering a menu inspired by the seasonal and local ingredients of Southern California.
Wedding and banquet facilities
Falkner Winery provides a picturesque setting for hosting weddings and banquets. With its stunning hill-top location and panoramic views of the Temecula Valley, the winery offers a romantic and memorable backdrop for special occasions. Whether it's an intimate wedding ceremony or a grand banquet, Falkner Winery's experienced staff is dedicated to making each event a truly unforgettable experience.
Contact information
For more information about Falkner Winery, including inquiries about wine tastings, restaurant reservations, and event bookings, you can contact the winery at 951-676-8231 or through email at tours@falknerwinery.com. The friendly and knowledgeable staff at Falkner Winery is always ready to assist you and ensure that your visit is nothing short of exceptional.
Wine Offerings
Falkner Winery is known for its diverse selection of wines that cater to a range of tastes and preferences. The winery prides itself on producing wines with exceptional varietal character and quality. Here are some of the varietals you can expect to find at Falkner Winery:
Varietals produced
Falkner Winery offers a variety of wines produced from grapes grown on their estate. Visitors can indulge in the richness of Chardonnay, the boldness of Cabernet Sauvignon, the crispness of Riesling, the refreshing notes of Sauvignon Blanc, the depth of Syrah, the smoothness of Merlot, and the complexity of Meritage. With such a diverse range of varietals, Falkner Winery ensures that there is a wine to suit every palate and occasion.
The Amante – a unique red Tuscan wine
One of the standout wines at Falkner Winery is the "Amante," a unique red Tuscan wine that captures the essence of Italy. This robust and flavorful wine is crafted with meticulous care, resulting in a wine that showcases the rich flavors and aromas of Tuscany. The Amante is a must-try for wine enthusiasts looking to embark on a sensory journey through Italy's renowned wine regions.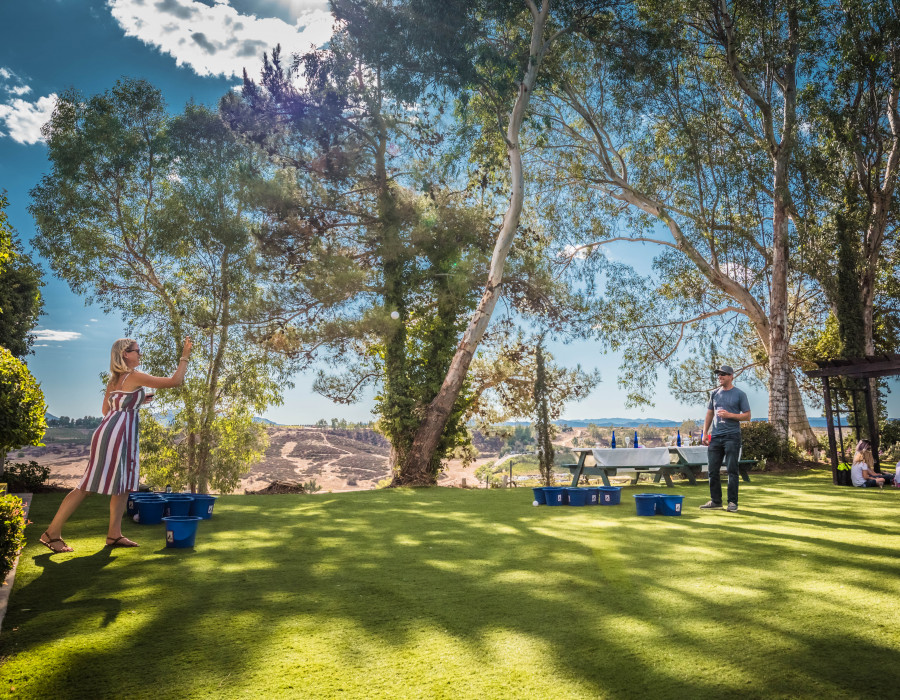 Spectacular Views
Falkner Winery's location on a hill offers visitors stunning panoramic views of the picturesque Temecula Valley. The winery is perfectly positioned to provide guests with an unrivaled vantage point to admire the beauty of the surrounding vineyards and rolling hills. Whether you are sipping on a glass of wine on the outdoor terrace or exploring the vineyards, the breathtaking views of the Temecula Valley will leave you in awe.
Location on a hill
What sets Falkner Winery apart is its unique location on a hill in the heart of the Temecula Valley. This elevated positioning not only allows for sweeping views but also creates a tranquil atmosphere that enhances the overall wine tasting experience. As you amble through the vineyards or enjoy a glass of wine on the terrace, you'll be captivated by the natural beauty that surrounds you.
View of Temecula Valley
The panoramic view of the Temecula Valley from Falkner Winery is truly unparalleled. From the winery's vantage point, guests can gaze out over the vineyards and soak in the beauty of this renowned wine region. Whether you're visiting for a wine tasting, a wedding, or simply to appreciate the scenery, the breathtaking view of the Temecula Valley is sure to leave a lasting impression.
Falkner Winery History
Falkner Winery has a rich history that dates back to its establishment in 2000. It was founded by Ray and Loretta Falkner, who had a vision of creating a winery that not only produced exceptional wines but also offered a warm and welcoming atmosphere for visitors.
Establishment in 2000
In the year 2000, Ray and Loretta Falkner breathed life into their dream with the establishment of Falkner Winery. Their passion for winemaking and commitment to quality quickly gained recognition, establishing Falkner Winery as a leading destination in Temecula Valley Wine Country.
Ownership by Ray and Loretta Falkner
Since its inception, Falkner Winery has been a labor of love for Ray and Loretta Falkner. Their dedication to producing exceptional wines and providing exceptional hospitality has been the driving force behind the winery's success. Ray and Loretta's unwavering commitment to excellence has solidified Falkner Winery's reputation as a premier winery in the region.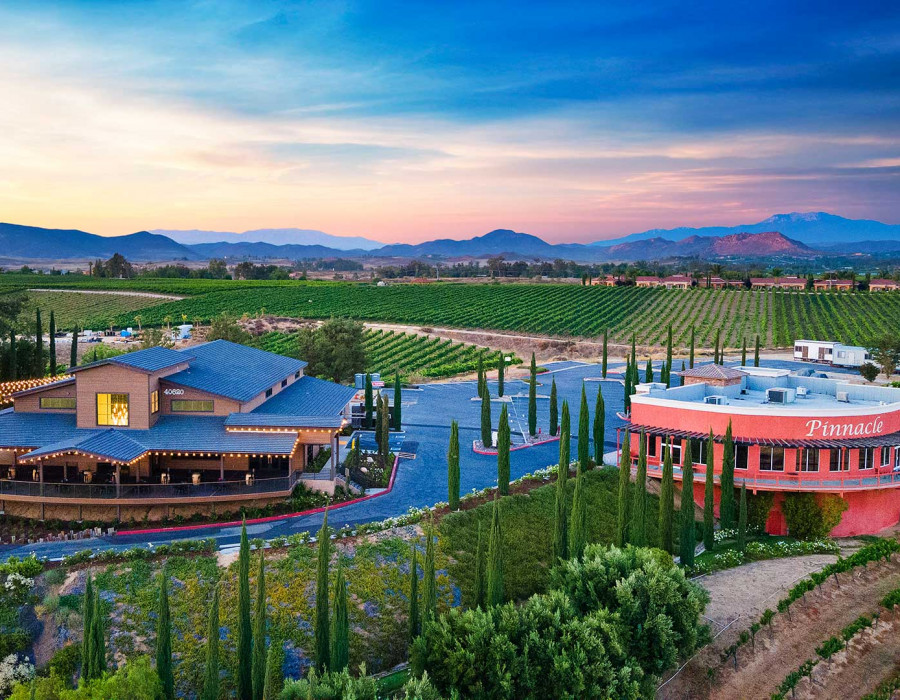 Winery Facilities
Falkner Winery boasts a range of facilities that make it an ideal destination for wine enthusiasts and visitors seeking a unique experience in Temecula Valley Wine Country.
Tasting Room
The winery's inviting tasting room is the perfect place to sample a wide selection of Falkner Winery's award-winning wines. From Chardonnay to Cabernet Sauvignon, visitors can delve into the diverse array of varietals produced by the winery. The tasting room provides a friendly and relaxed environment, allowing guests to learn about the wines, indulge in tastings, and discover their favorites.
Pinnacle Restaurant
Falkner Winery is proud to be home to the Pinnacle Restaurant, which offers a remarkable culinary experience. Open for lunch seven days a week, the restaurant serves a menu that showcases the flavors of Southern California, highlighting seasonal and local ingredients. Guests can savor delectable dishes paired with Falkner wines while relishing the beautiful surrounding scenery.
Tasting Room Hours
To accommodate visitors and provide ample opportunity to indulge in a wine tasting experience, Falkner Winery's tasting room operates daily from 10 a.m. to 5 p.m. Whether you're looking to start your day with a tasting or prefer an afternoon visit, the winery is ready to welcome you with open arms.

Pinnacle Restaurant Hours
The Pinnacle Restaurant at Falkner Winery offers lunch service seven days a week, ensuring that visitors can enjoy a delightful dining experience any day of the week. The restaurant is open from 11:30 a.m. to 3:30 p.m., providing the perfect opportunity to savor a scrumptious meal paired with Falkner wines.
Wedding and Banquet Facilities
Falkner Winery's stunning hill-top setting and elegant facilities make it an ideal location for hosting weddings and banquets. Whether you envision an intimate affair or a grand celebration, the winery offers a variety of venues to suit your needs. The picturesque vineyards and the panoramic views of the Temecula Valley provide a romantic and enchanting backdrop for creating unforgettable memories.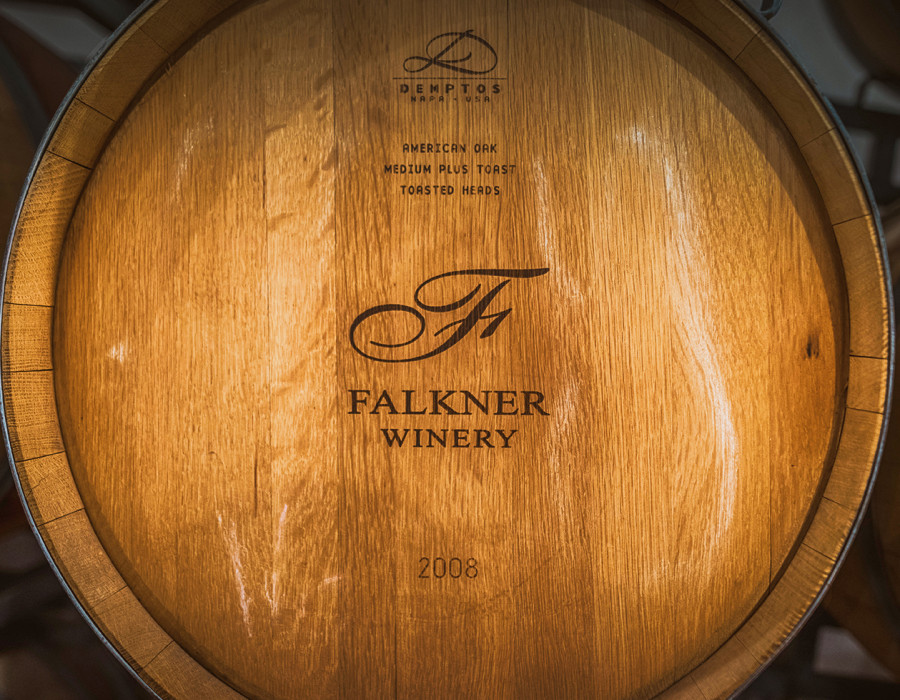 Xenia Award
In recognition of its excellence and commitment to hospitality, Falkner Winery was honored with the prestigious Xenia award for 2017 Winery of the Year. This coveted accolade is a testament to the winery's dedication to providing exceptional wines, warm hospitality, and an unforgettable experience for visitors. Falkner Winery strives for excellence and aims to exceed the expectations of every guest who walks through its doors.