Syrah is a full-bodied red wine from the Rhône valley in France. Syrah from California's Temecula Valley has gained recognition in recent years for its complex flavors and reasonable prices.
Overview of Syrah
Syrah is known for its deep color, bold fruit flavors, and savory, peppery notes. Some of the characteristic aromas and flavors found in Syrah include:
Blackberry, blueberry, plum

Black pepper, white pepper

Smoke, tobacco

Leather, earth

Dark chocolate, espresso

Herbs like rosemary, thyme
Syrah has medium to high tannins and acidity. It pairs well with grilled or roasted meats, stews, and boldly flavored dishes. Top regions for Syrah include the Rhône Valley, Australia (where it's called Shiraz), California, and Washington State.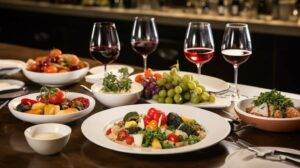 Temecula Valley's Syrah
Temecula Valley in Southern California has a warm, sunny climate that allows Syrah grapes to ripen while maintaining acidity fully. The valley's decomposed granite soils also contribute to the wine's complexity. Syrah thrives in Temecula's hot days and cool nights. Compared to the Rhône Valley, Temecula Syrah tends to be fruit-forward with softer tannins. Blackberry, blueberry, and plum flavors are familiar. Temecula wineries also use oak-aging to add vanilla, spice, and smoke notes. Temecula Syrah is medium to full-bodied with a smooth, rounded mouthfeel. Some top Temecula wineries for Syrah include Thornton Winery, Doffo Winery, Vitagliano Winery, and Baily Vineyard & Winery. These wineries receive high ratings for their Syrah and other red blends.
Temecula Valley Syrah Production Volumes
Temecula Valley is part of the larger South Coast AVA and is the largest wine-producing region in Southern California by volume


In 2016, a sampling of Temecula Valley wineries showed the region produced over 500,000 cases of wine, with Syrah being one of the main varietals

Some of the largest producers of Syrah include South Coast Winery (65,000 cases annually), Thornton Winery (18,000 cases) and Robert Renzoni Vineyards & Winery (18,000 cases)

In total, the Temecula Valley wine industry produces around 1.7 million gallons (over 200,000 cases) of wine annually
Temecula Valley Syrah Pricing
Prices for Temecula Valley Syrah generally range from $30 to $65 per 750ml bottle, with an average price around $50

Temecula Syrah is often priced below other California Syrah from Napa or Paso Robles, offering value

Some premium Syrah from top producers like Thornton Winery can sell for over $60 per bottle

Prices for Temecula Valley Syrah have been steadily increasing over the past few years

Even at the higher end, Temecula Syrah is priced significantly below the most expensive California Syrah wines which can sell for over $275
Food Pairings for Temecula Syrah
Temecula Syrah has enough body and flavor for hearty meat dishes. Recommended pairings include:
Grilled or braised beef

Lamb chops, stews

Pork tenderloin, ribs

Sausage, charcuterie

Roast chicken

Eggplant, mushrooms

Aged cheddar, blue cheese
The fruitiness of Temecula Syrah balances its savory qualities. This makes it more versatile with food than the more tannic Syrah from France. Temecula Syrah's smooth texture and ripe fruit complement the regional cuisine.
Syrah from Temecula Valley vs. Other California Wine Regions
Syrah is a bold red wine grown throughout California. While the grape originated in France's Rhône Valley, California's varied terroir leads to diverse Syrah styles. Temecula Valley in Southern California produces Syrah with a distinct flavor profile compared to other parts of the state.
Overview of California Syrah
Syrah is California's third most planted red grape after Cabernet Sauvignon and Merlot. The top regions for Syrah include Paso Robles, Santa Barbara, Sonoma, and Napa. California Syrah has ripe fruit flavors like blackberry, plum, and boysenberry. Additional aromas can include pepper, vanilla, smoke, chocolate, and herbs, depending on the region. The use of oak aging also impacts the wine's profile.
Temecula Valley's Unique Terroir
Temecula Valley's climate is influenced by coastal fog and elevation up to 1600 feet. The valley's granite soils retain heat well, helping grapes ripen. Wine experts describe Temecula Syrah as fruit-forward with softer tannins than other regions. Bright cherry, blueberry, and plum flavors are typical. Barrel aging adds notes of oak, spice, and smoke. The overall style is smooth and rounded.
Comparison to Other California Regions
Paso Robles

– More tannic and savory with prominent black pepper notes

Santa Barbara

– Earthy, smoky character from own-rooted vines

Napa

– Bolder and more tannic with intense black fruit

Sonoma

– Varies by sub-region but often shows black olive and meaty notes
While comparisons can be made, it's worth noting that terrior differences make each region unique. Within Temecula Valley, individual winery techniques also impact flavors.
Conclusion
With bright fruit flavors and soft tannins, Temecula Valley produces a distinctive regional style of California Syrah. The valley's warm days, cool nights, granite soils, and fog influence create ideal conditions for the grape. When tasting California Syrah, Temecula Valley stands out for its smooth, fruit-forward wines.
With its excellent climate for grapes, Temecula Valley produces Syrah which rivals more established regions. The wineries skillfully blend bright fruit with savory complexity. Temecula Syrah offers a food- and wallet-friendly taste of California wine country.