Discover Ponte Winery, located in the heart of the Temecula Valley, is a hidden gem waiting to be explored. With a 300-acre vineyard, this family-owned winery offers a charming and sophisticated atmosphere that is perfect for hosting private parties, weddings, or simply enjoying the beautiful vineyards and breathtaking views. Guests are invited to wander the manicured gardens, taste a wide variety of red, white, and sweet wines, and take in the unique specialty food and gift items available in the Tasting Room. Indulge in the luxury amenities of Ponte Vineyard Inn and experience the full-service cocktail lounge at The Cellar Lounge. Whether you're a wine connoisseur or simply looking for a picturesque escape, Ponte Winery is the perfect destination to relax and unwind.
Discover Ponte Winery
Welcome to Ponte Winery! Located in the heart of the Temecula Valley, Ponte Winery offers a charming and sophisticated atmosphere where you can indulge in exquisite wines, take in breathtaking views, and enjoy a range of amenities and services. Whether you are a wine enthusiast, looking to host a special event, or simply seeking a peaceful retreat, Ponte Winery has something to offer everyone.
Location and Background
Ponte Winery is nestled in the picturesque Temecula Valley, known for its thriving wine country. Conceived and built by the Ponte family, who have been grape growers in the region since 1984, the winery is a testament to their passion for winemaking. Established in 2003, Ponte Winery has become a beloved destination for wine lovers seeking a taste of the Temecula Valley's finest offerings.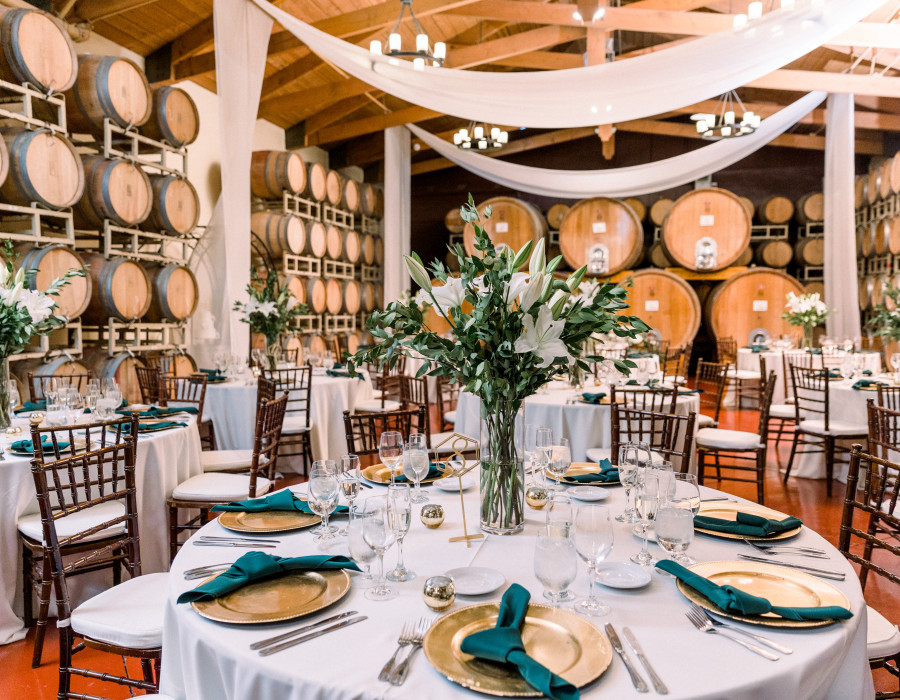 Amenities and Services
At Ponte Winery, you can expect a range of amenities and services that enhance your visit. Guided tours provide an informative and immersive experience, allowing you to explore the vineyards, learn about the winemaking process, and sample some of the exquisite wines. The winery also offers stunning wedding and event spaces, making it the perfect venue for your special day. Live music is a regular feature at Ponte Winery, adding to the vibrant ambiance. If you're feeling peckish, you can indulge in delicious cuisine at the winery's restaurant, which offers a delightful menu paired with their outstanding wines. For those seeking a longer stay, the on-site hotel provides luxurious accommodations, ensuring a memorable experience.
Winery Information
Ponte Winery is located at 35053 Rancho California Road, Temecula, CA 92591. You can contact the winery at 951.694.8855 or via fax at 951.694.8883. With a current production of 13,000 cases of white and rosé wines and 17,000 cases of red wines, Ponte Winery showcases a diverse selection of varietals. The winery also offers food services at their restaurant, which is open Wednesday through Sunday from 11:00am to 7:00pm. It's important to note that limousines and buses are permitted with a prior reservation only between the hours of 10 a.m. to 12 p.m., with a maximum party size of 8 guests. Please contact the winery or visit their website for more details. The tasting room is open daily from 10:00am to 5:00pm, and the reserve room is open from Friday to Sunday between 10:00am to 4:00pm. Additionally, live music can be enjoyed at the restaurant on Fridays and Saturdays starting at 5:00pm.

Wine Selection
Ponte Winery takes pride in its exceptional wine selection, offering a variety of varietals to suit every taste. Whether you prefer white, rosé, or red wines, you'll find something to delight your palate at Ponte Winery. The white and rosé wines showcase the refreshing flavors of Arneis, Chardonnay, Vermentino, and Pinot Grigio, among others. For red wine enthusiasts, Ponte Winery offers rich and complex options such as Cabernet Franc, Cabernet Sauvignon, Merlot, Montepulciano, and Sangiovese. The winery's commitment to quality is evident in the recognition it has received, with numerous awards and accolades highlighting their exceptional wines.
Visiting Ponte Winery
When visiting Ponte Winery, you will find it conveniently located in the heart of wine country. Detailed directions can be found on the winery's website. Ample parking facilities are available, ensuring a stress-free visit. To make the most of your experience, it is recommended to make reservations in advance, especially during peak times. Ponte Winery welcomes visitors of all abilities, with accessibility features to accommodate those with disabilities.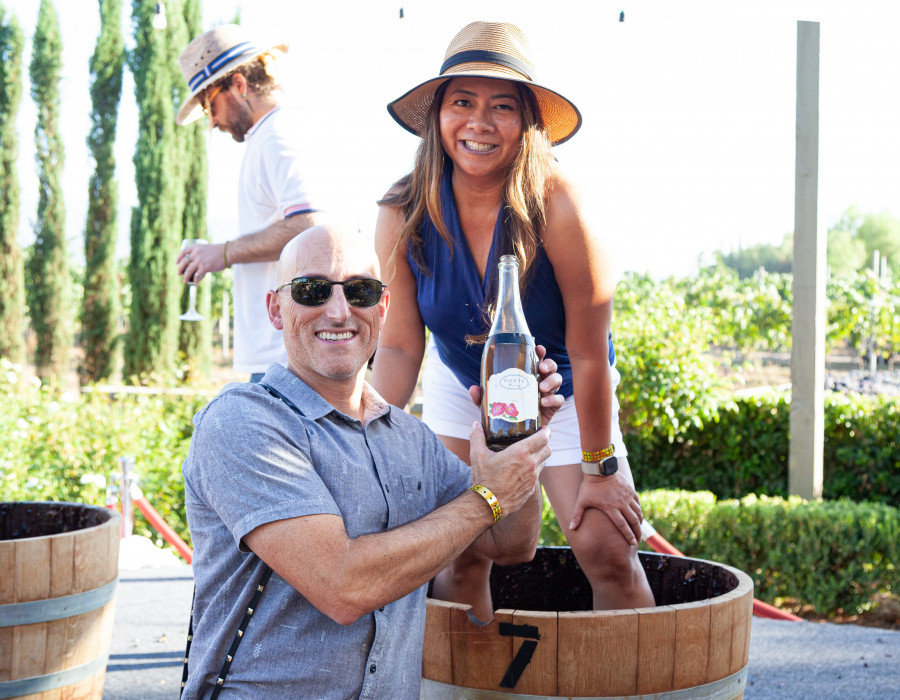 Events and Specials
Ponte Winery hosts a range of events throughout the year, offering guests a chance to celebrate and enjoy memorable experiences. From wine tastings and vineyard tours to special seasonal events, there is always something happening at Ponte Winery. One of the most anticipated events is the Annual Grape Stomp, a fun-filled affair that allows participants to experience the age-old tradition of crushing grapes with their feet. Additionally, the winery often presents special offers and promotions, allowing you to indulge in their exceptional wines and services at a discounted rate.
Gardens and Views
Ponte Winery is surrounded by a 300-acre vineyard, providing a picturesque backdrop for your visit. The winery boasts beautifully manicured gardens, inviting guests to take leisurely strolls and immerse themselves in the tranquility of the surroundings. The gardens offer breathtaking views of the vineyards, creating a serene and idyllic setting.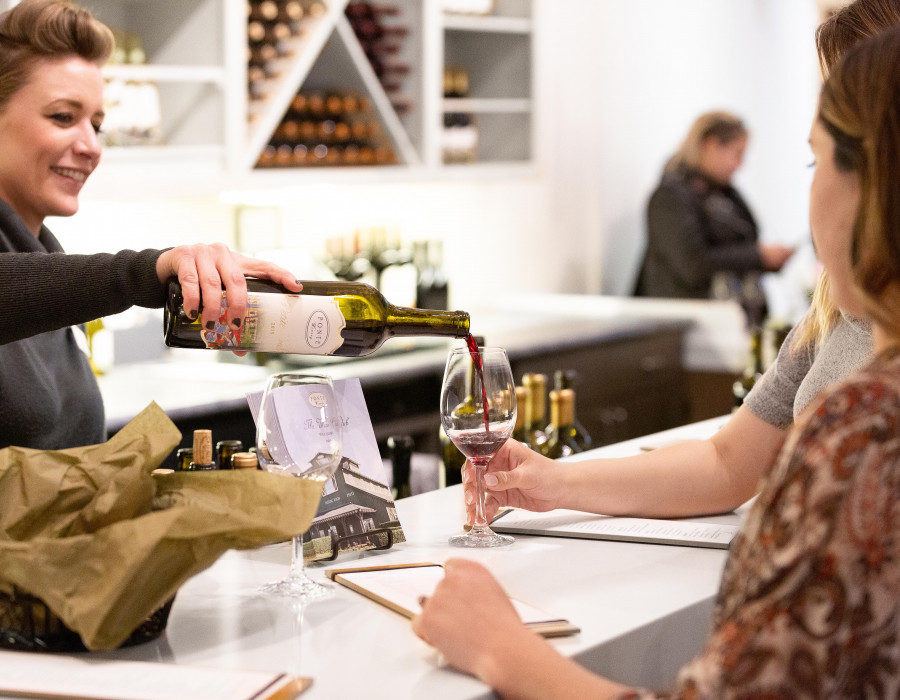 Tasting Room and Barrel Room
When you step into Ponte Winery's Tasting Room, you'll be greeted by an inviting atmosphere and charming decor. The open-beam ceilings and warm ambiance create the perfect setting to sample their impressive selection of wines. From robust reds to crisp whites and delightful sweet wines, the Tasting Room offers a diverse array of flavors to please every palate. If you're interested in learning more about the winemaking process, a visit to the Barrel Room is a must. Experience the unique aromas and sights as you explore the barrels where the wines are aged to perfection.
Gift Shop and Specialty Items
Ponte Winery's Tasting Room is also home to a gift shop, where you can find unique specialty items perfect for commemorating your visit to wine country. From wine accessories and apparel to gourmet treats and local artisan products, the gift shop offers a wide range of options to suit every taste.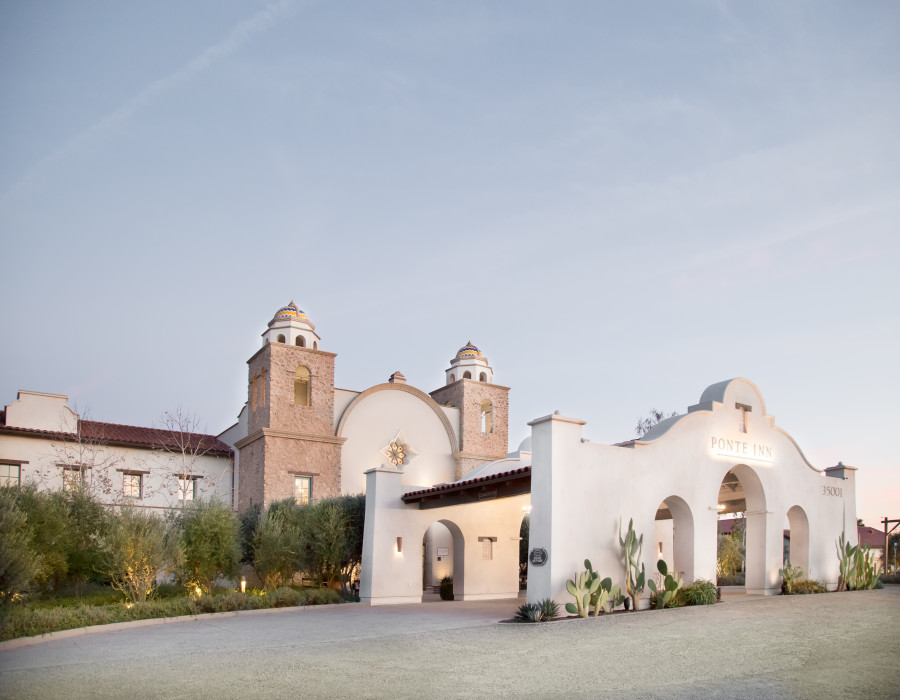 Dining Options and Accommodations
Ponte Winery offers an exceptional dining experience at The Restaurant at Ponte, where you can savor delectable dishes paired with their outstanding wines. The restaurant's menu features a tantalizing selection of culinary delights, prepared with fresh, locally sourced ingredients. For a more intimate dining experience, Bouquet Restaurant offers an exquisite menu in an elegant setting. If you're looking to extend your stay, Ponte Vineyard Inn provides luxurious accommodations where you can relax and unwind in the midst of vineyards. During your stay, don't forget to visit The Cellar Lounge, wine country's only full-service cocktail lounge, where you can enjoy handcrafted cocktails and fine wines.
With its captivating location, exceptional wines, and array of amenities, Ponte Winery invites you to embark on a memorable journey through the Temecula Valley wine country. Whether you're a wine enthusiast, planning a special event, or seeking a peaceful retreat, Ponte Winery promises an experience that will leave a lasting impression. Cheers to discovering the beauty and flavors of Ponte Winery!