Experience the beauty of Churon Inn Winery, nestled atop a hill in Temecula's Wine Country. Established in 2001, this Tuscany-inspired B&B and winery offers breathtaking vineyard views and meticulously crafted, award-winning wines. The grand lobby rotunda welcomes you with its soaring 40-foot high ceiling adorned with murals, while the tasting room invites you to savor the flavors of their varietals amidst elegantly carved wood wine racks and pillars. Stay overnight in one of their luxurious rooms complete with a jacuzzi tub for two, fireplace, and enjoy a gourmet breakfast in the dining room or delivered to your room. Make lasting memories as you soak in the stunning sunsets and wake up to the sight of hot air balloons floating above the vineyards. Discover the charm and hospitality of Churon Inn Winery, where relaxation and indulgence await you.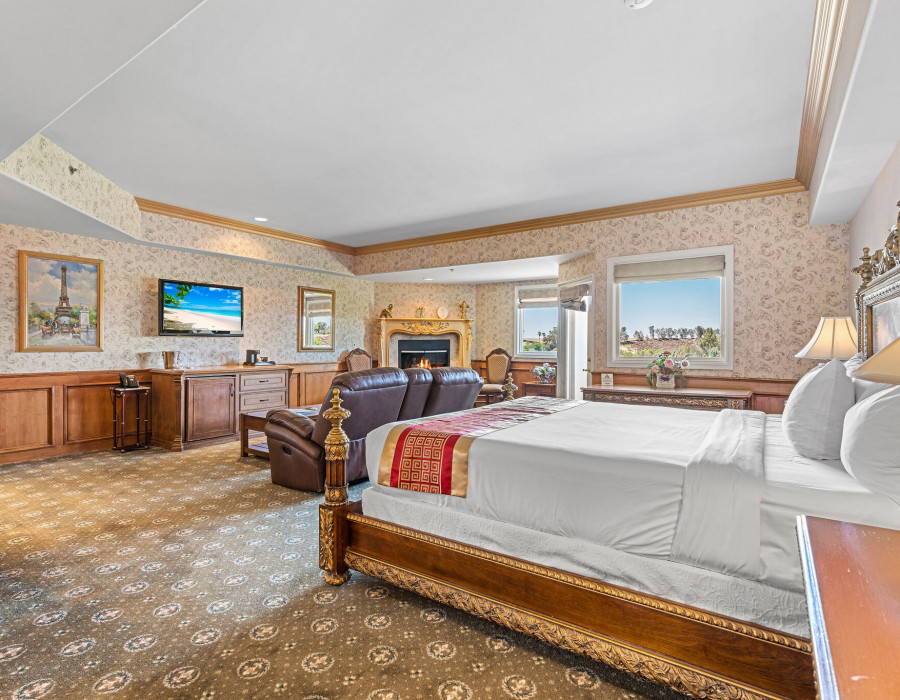 Overview
Welcome to Churon Inn Winery, your perfect destination for a relaxing and memorable experience in Temecula Valley Wine Country. With breathtaking vineyard views and award-winning wines, we invite you to join us and indulge in everything our winery has to offer.
Winery Info
At Churon Inn Winery, we pride ourselves on our commitment to excellence. Owned by Jean Tong, a passionate and successful businesswoman, Our winery was established in 2001. With a current production of 6000 cases, we strive to deliver the highest quality wines to our guests.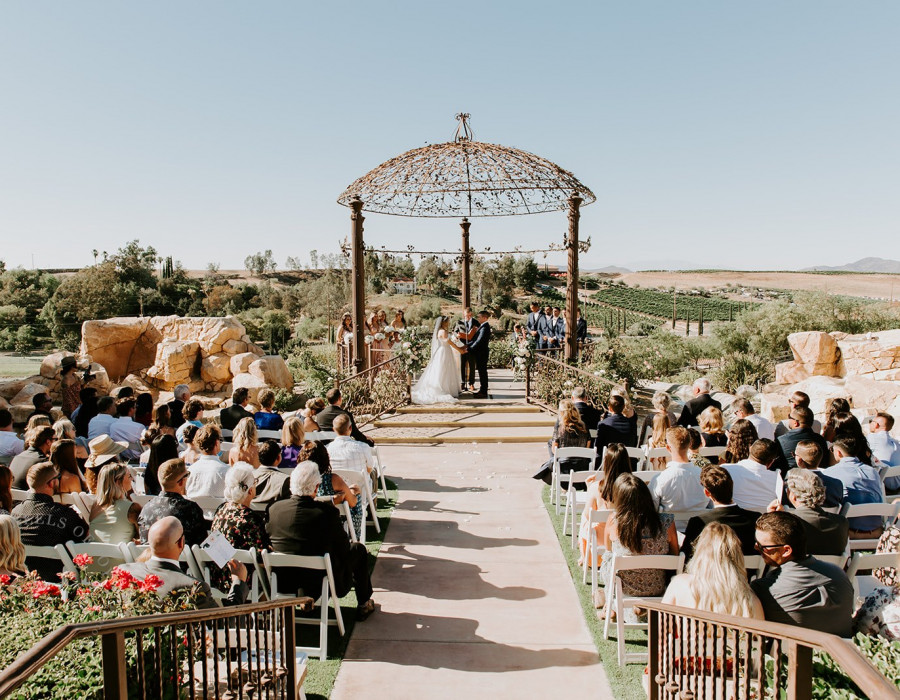 Amenities
Wedding & Event Spaces
Looking for the perfect venue for your special day? Look no further than Churon Inn Winery. Our wedding and event spaces offer stunning, picturesque backdrops for your ceremony or reception. Whether you dream of saying "I do" among the vineyards or in our elegant grand lobby, we have the perfect space to bring your vision to life.
Dog Friendly
We understand that pets are part of the family, and we welcome your furry friends to join you at Churon Inn Winery. Our dog-friendly policy ensures that you can enjoy your visit without leaving your beloved companion behind.
Family / Kid Friendly
Churon Inn Winery is a family-friendly establishment, offering activities and amenities to keep children entertained while adults indulge in our wines. From our friendly staff to our welcoming atmosphere, we strive to create a memorable experience for the whole family.
Live Music
Enhance your visit to Churon Inn Winery with the soothing sounds of live music. Every Saturday, we host talented musicians who serenade you while you savor our wines. Let the music set the tone for a truly unforgettable experience.
Restaurant
Indulge in a culinary journey at our on-site restaurant. With a menu featuring delicious dishes crafted with locally sourced ingredients, our restaurant offers the perfect pairing to accompany your wine tasting. Whether you're in the mood for a leisurely lunch or a romantic dinner, our talented chefs will exceed your expectations.
Hotel
Extend your stay at Churon Inn Winery by booking a room in our charming hotel. Relax and unwind in luxurious accommodations, complete with a jacuzzi tub for two, a cozy fireplace, and breathtaking vineyard views. Wake up refreshed and enjoy a gourmet breakfast in our dining room or have it delivered directly to your room.
Gift Shop
Take a piece of Churon Inn Winery home with you by exploring our gift shop. From wine accessories to locally made products, our shop offers a variety of unique items that make perfect souvenirs or gifts for loved ones.
Varietals
At Churon Inn Winery, we take pride in our carefully crafted varietals. Every bottle of wine we produce reflects the passion and expertise of our winemaker, Tim Kramer. With a focus on quality, we offer a selection of varietals that are sure to please every palate:
Cabernet Sauvignon
Indulge in the rich flavors of our Cabernet Sauvignon, known for its bold fruitiness and full-bodied character. This classic red wine pairs perfectly with hearty dishes and is sure to leave a lasting impression.
Syrah
Experience the depth and complexity of our Syrah, a red wine known for its dark berry flavors and hints of spice. This versatile varietal pairs well with a variety of cuisines and is perfect for both casual and formal occasions.
Tempranillo
Transport yourself to Spain with a glass of our Tempranillo. This red wine showcases the unique flavors of the Temecula Valley, with notes of cherry, plum, and a touch of oak. Enjoy it on its own or pair it with your favorite Spanish dishes.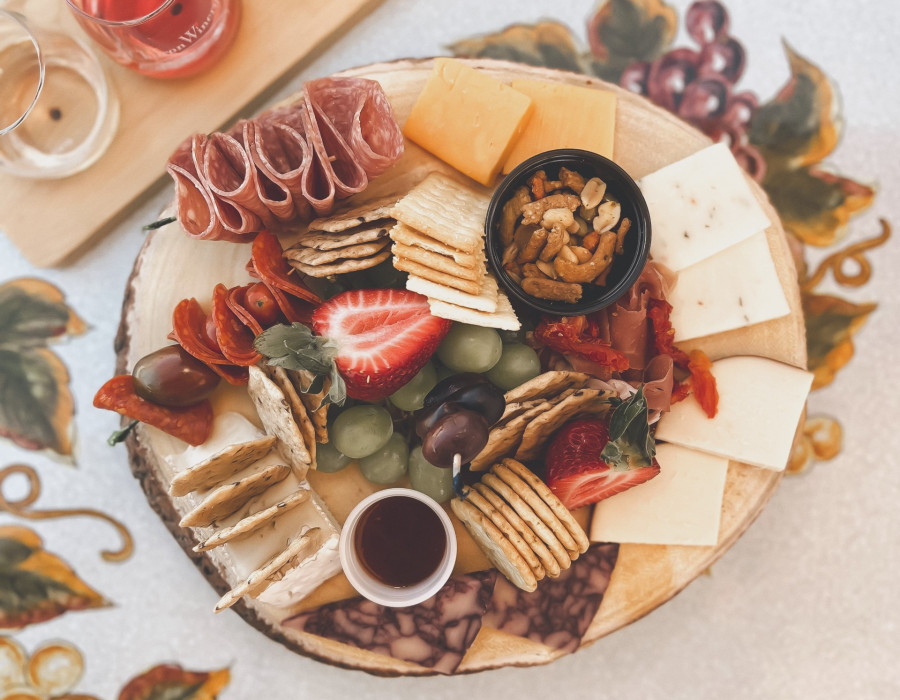 Winery Info
Owned By Jean Tong
Churon Inn Winery is proudly owned by Jean Tong, a passionate and successful businesswoman. With a love for Temecula Wine Country and a vision to bring new life to Churon, Jean is committed to ensuring that every guest has an exceptional experience at our winery.
Winemaker Tim Kramer
Behind every great wine is a talented winemaker, and at Churon Inn Winery, that person is Tim Kramer. With his expertise and dedication to crafting exceptional wines, Tim ensures that each bottle embodies the true spirit of our vineyard.
Current Production
Churon Inn Winery produces 6000 cases of wine annually. This allows us to maintain a focus on quality, ensuring that each bottle meets our high standards and provides a memorable experience for our guests.
Food Services
Satisfy your cravings at Churon Inn Winery's restaurant, where our talented chefs create culinary masterpieces using locally sourced ingredients. From breakfast to lunch, our menu offers a variety of delicious options that perfectly complement our wines.
Limo/Bus Policy
To ensure the comfort and enjoyment of all guests, we have a limo/bus policy in place. Limo and bus services are accepted by reservation only. Please email wineclub@innatchuronwinery.com to inquire about availability and make arrangements.
Hours
We understand that flexibility is important, which is why we offer extended hours to accommodate your schedule. Churon Inn Winery is open Monday to Thursday from 11am-5pm, Friday and Saturday from 10am-6pm, and Sunday from 10am-5pm. Join us at a time that suits you and experience the magic of Temecula Valley Wine Country.
Churon Inn Winery
History
Churon Inn Winery was opened in 2001 by two high school friends with a vision for a Tuscany-inspired bed and breakfast and winery. Since its inception, Churon has established itself as a premier destination in Temecula Valley Wine Country, known for its award-winning wines and luxurious accommodations.
Owner
As of 2018, Churon Inn Winery is proudly owned by Jean Tong. With her passion for Temecula Wine Country and her commitment to excellence, Jean is dedicated to enhancing the Churon experience and creating lasting memories for our guests.
Facilities
When you step into Churon Inn Winery, you are greeted by our grand lobby rotunda, adorned with stunning murals and a 40-foot-high ceiling. A curved marble staircase leads you into our tasting room, where you can enjoy our wines at our long bar or admire our carved wood wine racks and stately pillars. For a truly indulgent experience, stay in one of our well-appointed rooms and immerse yourself in the beauty of our vineyard views.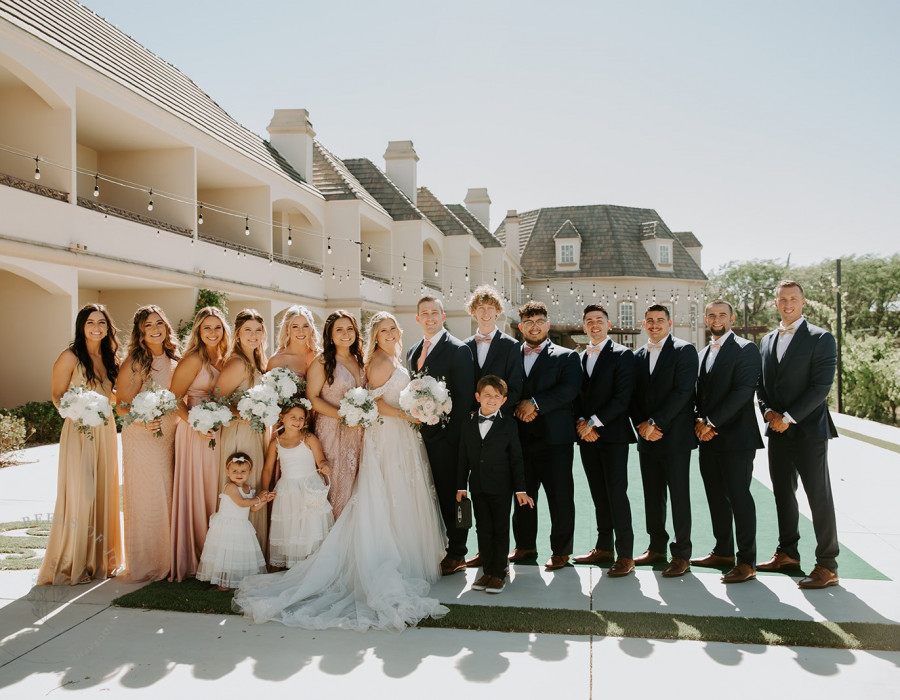 Events
At Churon Inn Winery, we believe in creating dynamic experiences for our guests. From live music to exclusive membership benefits, our events are designed to enhance your visit and create lasting memories.
Live Music
Immerse yourself in the soothing melodies of live music every Saturday at Churon Inn Winery. Our talented musicians create the perfect backdrop for your wine tasting experience, elevating it to new heights.
Membership
Unlock exclusive benefits and insider access by becoming a member of Churon Inn Winery. Membership offers perks such as priority event reservations, discounts on wine purchases, and invitations to special events. Join us and immerse yourself in the Churon experience.
\
Connect With Us
Stay connected with Churon Inn Winery and be the first to know about our latest news, events, and promotions.
Facebook
Follow us on Facebook to stay informed about all things Churon Inn Winery. Discover behind-the-scenes moments, read reviews from fellow wine enthusiasts, and join the conversation.
Instagram
Join us on Instagram and explore the beauty of Churon Inn Winery through captivating visuals. From stunning vineyard landscapes to elegant wine tastings, our Instagram feed offers a glimpse into the Churon experience.
As a cherished guest, we invite you to indulge in the ultimate wine country retreat at Churon Inn Winery. With our breathtaking views, award-winning wines, luxurious accommodations, and a variety of amenities, we guarantee an unforgettable experience. Whether you're planning a wedding, looking for a family-friendly getaway, or simply seeking a moment of relaxation, Churon Inn Winery has everything you need. Visit us and let us enchant you with the magic of Temecula Valley Wine Country.