Escape to the tranquil surroundings of Carter Estate Winery and Resort in the heart of Temecula Valley. With a reputation for exceptional hospitality and a passion for producing award-winning wines, Carter Estate offers a tasting experience that is truly a cut above the rest. Whether you're a wine connoisseur or just looking for a relaxing getaway, this picturesque estate has something for everyone. Indulge in the art of winemaking with their collection of estate-grown wines, including their renowned Méthode Champenoise sparkling varieties. And if you want to extend your stay, their private Bungalows and poolside cabanas provide the perfect setting to unwind and savor the flavors of Temecula's wine country. Come and let Carter Estate Winery and Resort pamper your senses with their exquisite wines and warm hospitality.
Carter Estate Winery and Resort
Welcome to Carter Estate Winery and Resort, where you can indulge in the ultimate wine experience in the heart of Temecula's Wine Country. Explore our award-winning estate-grown wines, learn about our exclusive Méthode Champenoise process, and discover the meticulous care that goes into our hand-harvested grapes. With a variety of red and white wines to choose from, intimate tasting experiences, luxurious accommodations in private bungalows, and relaxation in poolside cabanas, Carter Estate offers a truly unforgettable experience for wine enthusiasts and travelers alike.
Award-Winning Estate-Grown Wines
At Carter Estate, we take great pride in our extensive collection of award-winning estate-grown wines. Our vineyards produce superior quality grapes that are carefully selected and transformed into exceptional wines. Whether you prefer red or white wines, you'll find a wide selection of varietals to satisfy your palate. From rich and bold Cabernet Sauvignon to crisp and refreshing Chardonnay, each bottle is a testament to our commitment to quality and excellence.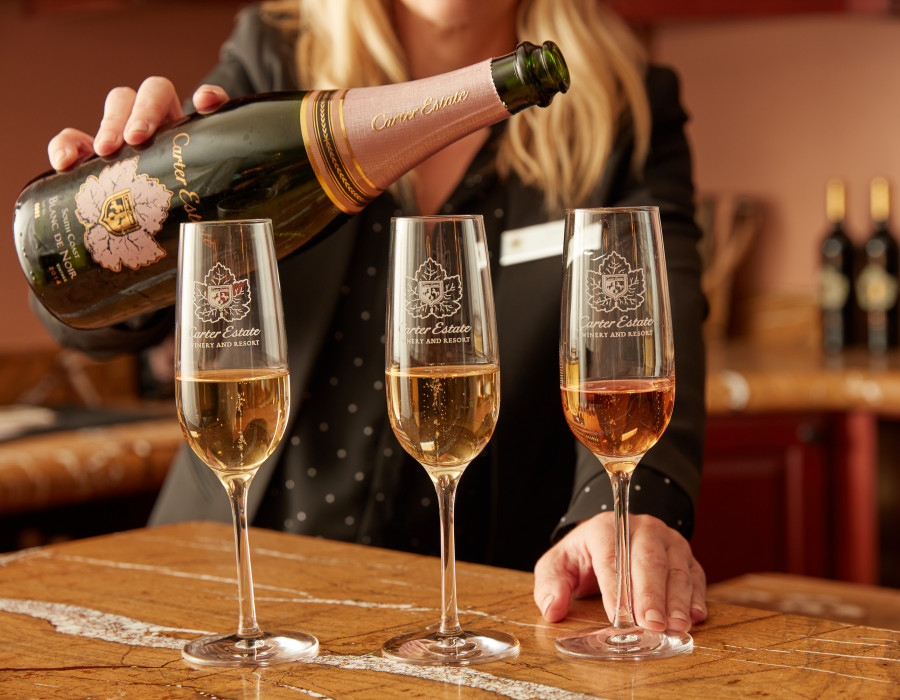 Méthode Champenoise Process
One of the highlights of Carter Estate is our exclusive Méthode Champenoise process, used to craft our sparkling wines. The same technique employed in the making of world-acclaimed sparkling wines, this process infuses our wines with elegance and finesse. From hand-harvested grapes to the secondary fermentation in each bottle, every step is meticulously executed to create sparkling wines of exceptional quality and complexity. The result is a collection of sparkling wines that truly stand out in the wine industry.
Hand-Harvested Grapes
To ensure the utmost quality in our wines, we practice small batch production using hand-harvested grapes. This meticulous attention to detail allows us to enhance the flavor profile of each wine, capturing the essence of the terroir in every bottle. By carefully selecting the ripest grapes and handling them with care, we are able to create wines that are unparalleled in taste and aroma.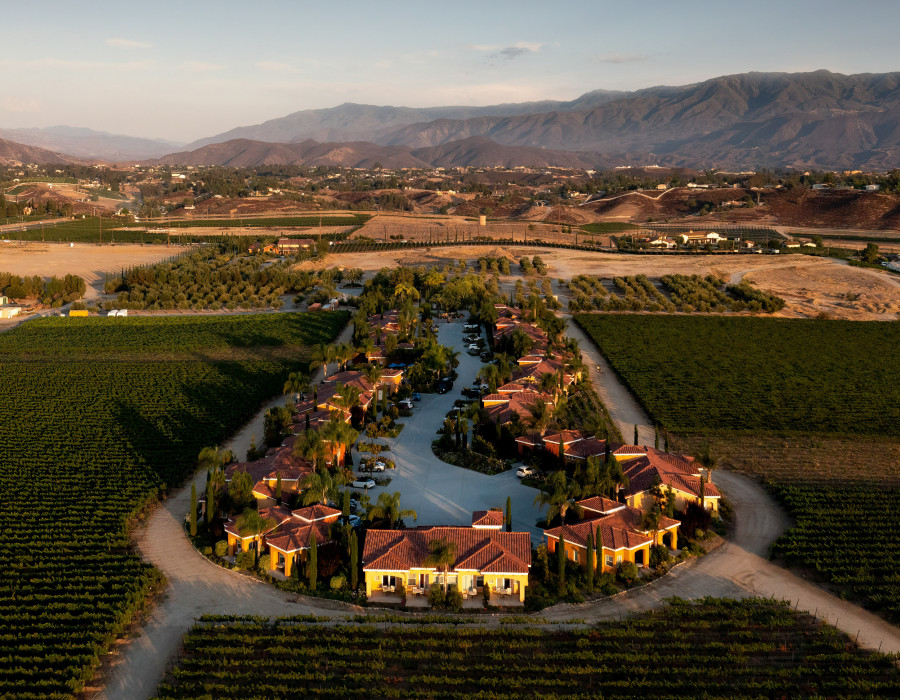 Variety of Red & White Wines
Carter Estate offers a wide selection of red and white wines, each with its own unique characteristics and flavor profiles. From bold and robust reds to crisp and vibrant whites, there is something for every wine lover. Our wines are fermented and aged in French oak barrels, adding depth and complexity to each sip. Whether you're a fan of classic varietals like Cabernet Sauvignon and Merlot or enjoy exploring lesser-known gems like Viognier and Malbec, our collection has something to please every palate.
Intimate Experiences
At Carter Estate, we believe that wine tasting is not just an event, but an experience to be savored. That's why we offer unique and intimate experiences for our guests. From personalized wine tastings to seasonal food and wine pairings, our team is dedicated to providing you with expert guidance and personalized recommendations. Let us take you on a journey through our wine menu, exploring the nuances of each wine and helping you discover new favorites.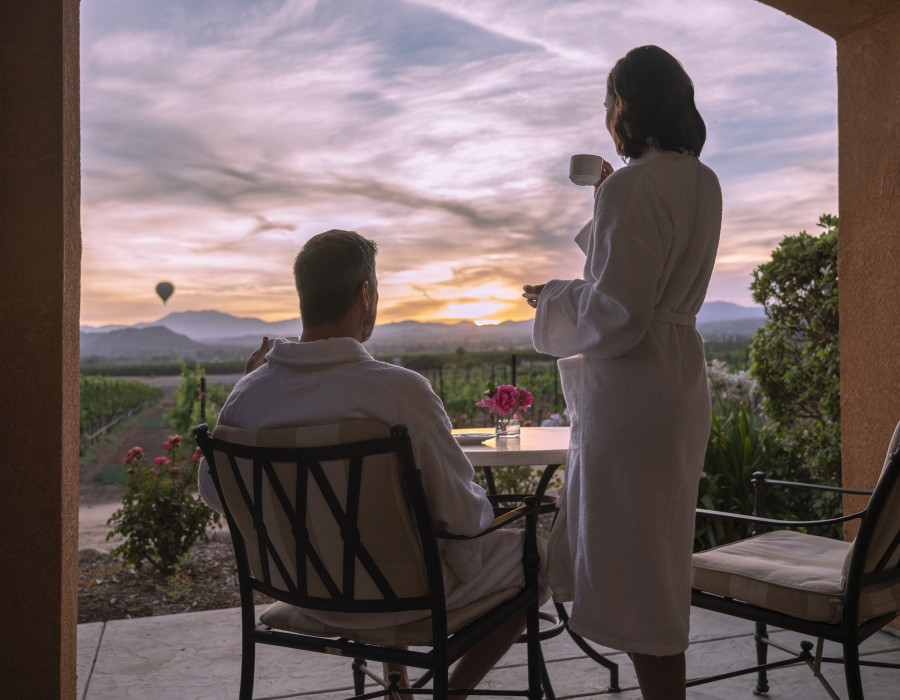 Accommodation in a Private Bungalow
To make your visit even more special, Carter Estate offers exclusive overnight stays in private bungalows nestled among our vineyards. Each bungalow is luxuriously appointed with modern amenities and offers breathtaking views of the surrounding vineyards. Wake up to the sight of sun-kissed grapevines and enjoy the serenity and privacy that our accommodations offer. Whether you're celebrating a special occasion or simply seeking a tranquil retreat, our bungalows provide the perfect sanctuary during your stay.
Relaxation in a Poolside Cabana
After a day of wine tasting and exploration, unwind and relax in one of our poolside cabanas. Take in the scenic views of the vineyards while enjoying delicious food from the Vineyard Grill, our on-site restaurant. Whether you prefer a refreshing cocktail or a glass of our award-winning wine, our poolside cabanas offer the ultimate relaxation experience. Soak up the California sunshine, indulge in delectable cuisine, and let the stress of everyday life melt away.

Location in the Heart of Temecula's Wine Country
Carter Estate is conveniently located in the heart of Temecula's Wine Country, making it the perfect destination for wine enthusiasts. Nestled among rolling hills and picturesque vineyards, our winery and resort offer a serene and idyllic setting for your wine country getaway. Explore the surrounding wineries, indulge in wine tastings, and immerse yourself in the beauty of the wine country. With its close proximity to San Diego and Los Angeles, Carter Estate is easily accessible for a weekend escape or a day trip.
Contact Information
To plan your visit to Carter Estate Winery and Resort, here is our contact information:
Address: 34450 Rancho California Rd, Temecula, CA 92591
Phone Number: 844.851.2138
Owned By: Jim Carter
Winemaker: Jon McPherson, Master Winemaker; Javier Flores, Winemaker
Current Production: 2,500 cases
Tasting Room Hours: Sunday – Thursday | 12:00pm – 5:00pm; Friday & Saturday 11:00am – 6:00pm
Reservation Policy: Reservations for parties of 6 or more are required. For groups larger than 10 people, please get in touch with us for reservations at 951.587.9463 Ext. 4506.
Experience the best Temecula's Wine Country offers at Carter Estate Winery and Resort. Indulge in exceptional wines, enjoy luxurious accommodations, and immerse yourself in the beauty of the wine country. We look forward to welcoming you to our estate and sharing our wine passion.